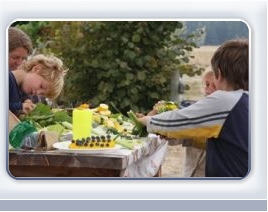 Deer Lagoon Grange Hall in Langley seeks support from community
by Patricia Duff
South Whidbey Record Arts & Entertainment, Island Life
13 December 2011
Chuck Prochaska stands on the maple floor of the Deer Lagoon Grange made from salvaged wood from
Fort Casey in the historic building's signature hall. Prochaska is leading an effort to raise funds to pay for
needed repairs at the iconic South Whidbey gathering place.
Brian Kelly / The Record
LONE LAKE — She's 107 years old and her bottom is bowing. It's not as if she's going to fall down, it's just that Deer Lagoon Grange Hall needs a bit of a lift.
"The building really needs to be straightened and the trusses need to be reinforced," said Grange member Chuck Prochaska.
That said, the venerable old building is safe, he added. Prochaska is leading an effort to secure funds for necessary improvements to the hall, which is located on Bayview Road about a mile north of Bayview Corner.
"Our objective is to keep this structure in service to the community and to preserve its historic nature, while making the building more useful and functional to keep pace with the evolving needs of the community," Prochaska said.
The total cost of the work is estimated to be $46,500, including contingency funds for cost increases and unanticipated problems.
Permits have already been acquired from the county and Prochaska has received at least $11,000 in pledges of support from community members, in addition to the support of all three branches of the Whidbey Island Bank, which will contribute an undisclosed amount to the project.
"We already have people stepping up," Prochaska said, "but we need to reach out to the community because they are as interested in keeping the building in service as much as the Grange members.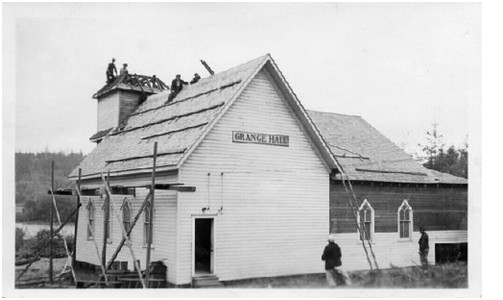 "Once the work is done, it'll probably be good for another 100 years."
The Grange hall, which was designated an Island County historic building in 2008, has been a significant community center for more than 100 years.
The building has been home to the Norwegian Lutheran Church, Trinity Lutheran Church and the Veterans of World War I South Whidbey Barracks No. 1210, as well as Boy Scouts, Cub Scouts and local 4–H Clubs.
The Grange has hosted events for U.S. Sen. Henry "Scoop" Jackson and state Sen. Jack Metcalf. Community meetings held there led to the acquisition of the ferry landing in Clinton and road signs which direct drivers to Langley, Clinton and Freeland.
Grange No. 846 began using the hall in 1935. Grange-sponsored events in years past included ice cream and pie socials, pancake breakfasts for fishermen on opening day of Lone Lake and gatherings for Whist and Pinochle tournaments.
Today the Grange is used by Southwest Christian Church Men's Group, the South Whidbey Rock Club, Weight Watchers, various dance groups, literary evenings, performances and family celebrations.
The facility is also used for community classes on such topics as fruit tree management and bee keeping and the Back to Basics series, which aims to educate the public about the production, procurement, preparation and preservation of food, including livestock.
The facility also hosts the Grange's collective food buying program, which allows members of the public and grangers to acquire good food at good prices, by combining their buying power and sharing transportation.
Prochaska said that all these important community events can continue if the hall is maintained.
"Deer Lagoon Grange is reaching out to the community to help us preserve and keep our building alive for the next century," he said.
The major element that demands immediate attention, Prochaska said, is a roof structure support truss that must be replaced. Termites and dry rot caused a previous partial foundation failure.
A foundation upgrade is needed to approach current structural code and to repair wall and roof structure to its original geometry and functionality, he said.
"We'll bring the building closer to code than it is," he said.
Prochaska said that due to the historic nature of the building, most of the original structure and related structural design will be maintained. The exception will be the partial addition of concrete foundation with shear ties to replace the cedar rounds that have carried the structure since 1904. The replacement roof support truss will be of modern construction and will not affect the appearance of the building.
Flat Rock Productions of Langley has offered to render the upgrades for free and offer some design renderings for the future, which would improve entryways and other details.
"If we end up with more money, then potentially we could do some of the improvements that the rendering would show, but our main drive is to keep the building safe and do the basic improvements," Prochaska said.
"We know the building won't be available to us if we don't do something now to fix it," he added.
Donations can be made to the Grange Building Fund, PO Box 386, Freeland, WA 98249. Donations can also be made through the website at www.deerlagoongrange.com.
Contact South Whidbey Record Arts & Entertainment, Island Life Patricia Duff at pduff@southwhidbeyrecord.com or (360) 221-5300.
4-HD Presentation - September 2011
Deer Lagoon Grange hosted a presentation by the "4-HD Video Club" at its regular business meeting Tuesday September 6th. The members of the 4-H group demonstrated how they made a series of videos that include the History of the Coupeville Wharf. Robert Elphick led the presentation that was given by the 4-HD members.
The members of Deer Lagoon Grange were very appreciative of the informative presentation. During the following discussion a number of potential projects for the 4-H group were discussed along with ways that Deer Lagoon Grange could be supportive of the group.
All of this is in keeping with a decision by Island County Pomona Grange in late 2010 to support the 4-H movement in Island County as follows:
The Granges of Island County make the public aware that they support the 4-H Program
Help 4-H fundraising activity (ie sponsor events and/or provide facilities for such events)
Sponsor 4-H Groups. This could develop into creation of a parallel Youth Grange (of which several already exist in the State) and increased membership
Initiate legislative support for the "4-H" program by writing resolutions for action at the Washington State Grange Convention in June. One such resolution might be calling for designated funding in the State's annual budget.
Cooperative Tuna Run
A Deer Lagoon Grange cooperative food run for 890 pounds of fresh albacore tuna in Westport, Washington. The fish were caught by the "Howard H", Westport.
A 20 pound Albacore Tuna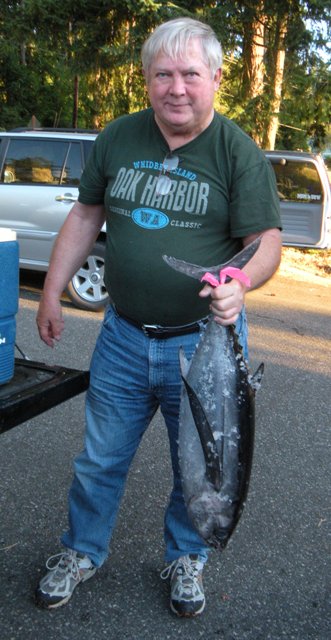 Chuck Prochaska holding a tuna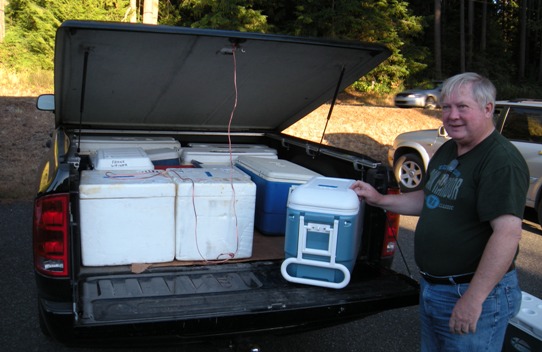 890 pounds of fresh albacore tuna!
Chuck Prochaska handing a package of Tuna Fillets to Dan Johansen
Group receiving their orders at Deer Lagoon Grange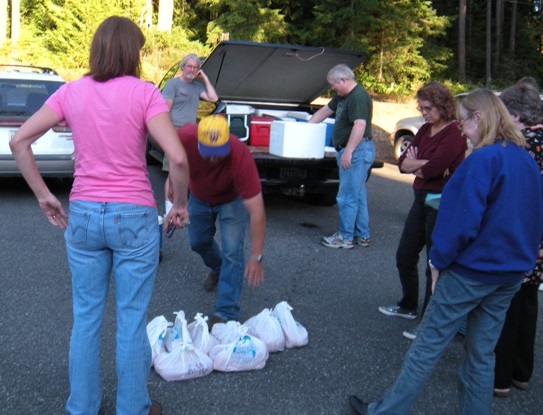 Tuna distribution
Judy Prochaska, Reece Rose and Rita Comfort waiting for tuna
Island County Granges members earn awards - July 2011
Island County Granges members earned awards at the 122nd Washington State Grange Convention in Moses Lake June 29 through July 2.To be eligible to compete at the state level, each contestant had to win the category at the Island County competition with at least a Blue award.




Island County is one of the smallest Pomona Granges in the state and competed with 35 other counties with granges.




Island County earned two Best of Show, one Second Best of Show, one Special Award, six Best of Class, one First Place, three Second Place, four Third Place, 37 Blue awards and 8 Red awards.




Competition results:

Arts and Crafts-Best of Show, Best of Class, stained glass mosaic blue heron, Patti Shanholtzer, Coupeville; Best of Show, Best of Class, woven scarf, Joanne Hicken, Clinton; Second Best of Show, Best of Class, quilted hanging scarecrow, Tarey Kay, Clinton; Best of Class, crocheted doily and crocheted grange altar cloth, Tarey Kay, Clinton; model P-51 Mustang, Bill Waite, Oak Harbor.




Blue Ribbons: Tamari ball, huck embroidery, knit baby sox and sponge print, Tarey Kay, Clinton; block print art, Gary Kay, Clinton; dried peppers in deco jar, Christine Williams, Langley; beaded necklace, Shirley Lacy, Clinton; and embroidery Indian princess, Sonia Miller, Freeland.




Photography-Blue Ribbons: ten categories to Chuck Prochaska and two categories to Judy Prochaska, both of Greenbank.




Red Ribbons: four categories to Judy Prochaska and three categories to Chuck Prochaska.




Community Service Award-Deer Lagoon Grange, Third Place for Granges under 40 members.




Women's Activities Department: Canning-First Place, vegetables, Tarey Kay, Clinton; Second Place, meat, Tarey Kay, Clinton; Second Place, fruit, Christine Williams, Langley; Red Ribbon, spreads, Judy Prochaska, Greenbank.

Women's Activities Department: Baking-Third Place, cake mix cookies, Tarey Kay, Clinton; Third Place, brownies, Sonny Campbell, Freeland; Blue Ribbon, cookies, Tom Campbell, Freeland.




Women's Activities Department: Sewing-Blue Ribbon, sewing machine cover, Joanne Hicken, Clinton.




This quilted hanging scarecrow by Tarey Kay of Clinton won Second Best of Show and Best of Class at the Washington State Grange Convention.

This stained glass mosaic blue heron by Patti Shanholtzer from Coupeville won Best of Show and Best of Class at the Washington State Grange Convention.
Women's Activities Department: Needlework-Special Award, Christmas story mat, Desiree Campbell, Freeland; Second Place, crochet doily, Tarey Kay, Clinton; Third Place, beaded necklace, Shirley Lacy, Clinton; Third Place, sweater, Desiree Campbell, Freeland; Blue Ribbon, crocheted baby blanket, Tarey Kay, Clinton.
This was the third consecutive year that Island County has been represented in this state level competition.
This is a P-51 model made from coke cans by a member from Coupeville.
A large embroidered Doily by Tarey Kay.
Island County Granges at 122nd Washington State Grange Convention
Moses Lake, WA June 29 – July 2
Island County was well represented at the just completed Washington State Grange Convention held at the Grant County Fairgrounds in Moses Lake. Each of the four Granges of the County were represented by certified voting delegates.
The work of the delegate body included consideration and action on many resolutions submitted by Granges from across the State of Washington, as well as hearing from Standing and Special Grange Committees. This year the body heard presentations by Washington State Attorney General, Rob McKenna; Washington State Director of Agriculture, Dan Newhouse; National Grange Lecturer, Pete Pompper NC; and Greg Satrum of Willamette Egg Farms. Another task for the delegates was to elect State Officers. Mixed in with the serious business of acting on the Docket and electing officers were a Memorial Service, Talent Contest, and other group gatherings.
Delegates representing Deer Lagoon Grange #846 were Yvette Cadwallader, Greenbank and Gary Kay, Clinton. Bob Cadwallader of Greenbank represented Penn Cove Grange #1149. Phyllis Rainey, Clinton, represented Island County Pomona #50. South Camano Grange #930 was represented by Pat Major, Camano Island and Elinor Zonneveld, Mt. Vernon. Other Islanders in attendance at the convention were Tarey Kay, Clinton, Chuck and Judy Prochaska, Greenbank. Chuck served in his capacity as Deputy State Master.
The new State Master for Washington State Grange is Duane Hamp, Spokane. Results from action on the Docket will be incorporated into the Washington State Grange Legislative Handbook 2012. This document will be available to all of our State legislatures as well as our elected representatives to Congress.
The Washington State Grange consists of 252 Community Granges with a total membership over 14,300. One exciting change for the National and State Granges is the addition of a new class of membership. The members in this class are E-members who carry on their membership on-line.
Chuck Prochaska,
Greenbank 360-222-3110
This is a picture of Rob McKenna, Convention's Key Note Speaker, addressing the Delegate Body at the WSG State Convention held in Moses Lake this year. He addressed two Supreme Court cases, top two primary and property ownership rights (two hot button topics in Washington State and with the Grange).
Results of the Island County Home Crafts Competetion - 30 April 2011
The results of the Island County Home Crafts Competetion sponsored by the Granges of Island County and held April 30th, 2011 are in. The entries that will represent Island County at the Statewide competetion at the end of June 2011 in Moses Lake are as follows;
Canning;

Class A: Fruits. Christine Williams, Langley; Cherries.
Class B: Vegetables, Tarey Kay, Clinton; Salsa.
Class C: Soft Spreads, Judy Prochaska, Greenbank; Jam.
Class D: Meat, Tarey Kay, Clinton; Tuna.
Baked Goods;
Group II -- Cakes and Cookies. Class I; Cookie or Cake Mix Cookies, Tarey Kay, Clinton.
Group III -- Juniors.
Class J; Baked Cookies, Tom Campbell, Freeland.
Group V -- Brownies
Class N; Brownies, Sonny Campbell, Freeland.
Needlework;
Group I Crochet, Knit, Tat (cotton crochet threads).
Class B; Something small for the house, Tarey Kay, Clinton.
Group II Knit, Crochet (Synthetic, Mended or natural yarn).
Class D; Baby Afghan, Tarey Kay, Clinton.
Class F; Something to wear, Desiree Campbell, Freeland.
Group III Embroidery and Stitchery.
Class H; Counted Cross Stitch, Sonia Miller, Freeland.
Group IV Other.
Class J; Other, Wall Hanging, Desiree Campbell, Freeland. Sewing;
Group II Speciality.
Class F; Miscellaneous, Singer Featherweight Cover, Joanne Hicken, Clinton.
Open House Features FFA in Washington
Deer Lagoon Grange is celebrating "Grange Month 2011" with a special open house on April 19th. The program starting at 7:00PM is featuring two officers of the Washington FFA. Brianna Tasker and Karli Zwade will be giving a presentation "The FFA in Washington". The theme for Grange Month is "Connecting Communities through Service" which continues to be the focus of Deer Lagoon Grange. The Grange has 144 years of experience in serving American communities through legislative efforts, education, and service projects. Whidbey Island's first Grange started in 1873 in Coupeville.
Karli Zwade is a graduate of Ferndale High School and hold the office of Secretary for the Washington FFA. She has developed a passion for livestock, agriculture, sports, and the outdoors. Before her election to her current office, her supervised agriculture experience projects ranged from raising equine, alpacas, hogs, poultry, rabbits, and cavies. Her biggest supervised agriculture experience project in FFA was raising, working with, and showing hogs. Every year she raises a hog for either the Puget Sound Livestock Show, or for the Northwest Washington Fair. In addition, she raises an extra hog to donate to a local shelter for women and children. She enjoys riding her horse Annie and watching her new colt, Casanova, become a trouble maker. Throughout high school, she grew as an individual through the career development events that FFA had to offer. Although she competed in several career development events, her favorites were: Sales and Service, Extemporaneous Public Speaking, and Livestock Judging. FFA has taught her to believe a quote one of her FFA advisors shared with her, that "Dreams are goals with deadlines." Being the 2010-2011 Washington State Secretary is a dream that she is privileged to be living. Karli says, "Always remember that your dreams are never out of reach, you just have to set them with a deadline to achieve them."
Brianna Tasker is a graduate of Ellensburg High School and holds the office of Reporter for the Washington FFA. Brianna focused on taking many Career and Technical Education classes such as Horticulture, Agriculture Business, Microsoft Office Specialist, and Accounting. She will attend Washington State University this fall and will pursue a degree in Animal Science-Production Management. Through FFA she has shown swine at the Kittitas County Fair. She has also participated in a variety of Career Development events including Rituals, Creed, Agriculture Sales, Livestock Evaluation, and Parliamentary Procedures.
In Whatcom, Skagit, and Snohomish Counties there are 24 high schools with FFA Chapters. There are over 7000 FFA members in the State.