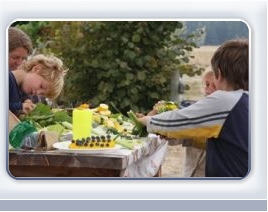 Compsting at the Fair
Whidbey Island Area Fair
Do you raise bees or grow excellent tomatoes? Why not enter something in the Fair?
Are you able to help?
We are looking for donations to use as awards for entries in the new "Ag Contests" Division. If you are interested in contributing, please call Chuck Prochaska at 360-222-3110.
Craft Night at the Grange - Wednesday Evenings
Come and join with others, the special series of events sponsored by Deer Lagoon Grange. Every Wednesday evening will be focused on creating your own craft project with a couple objectives:
1. This activity will help you get ready to enter the upcoming Island County Grange events that will happen early in the year through May 10. The Blue ribbon winners of that competition will be able to advance to the Washington State Grange competition in late June.
Washington State Grange Program Handbook
Family Crafts, open to youth and adults:
p. 20 Needlework
p. 21 Quilting
p. 21 Sewing
p. 21 Candy
p. 21 Baking
p. 22 Canning
p. 22 Quilt Blocks
Other Crafts/Photography, open to youth and adults:
p. 7 Photography
p. 9 Arts & Crafts
2. The Whidbey Island Area Fair (WIAF) in late July and early August will have similar contests that individuals can prepare for.
Whidbey Island Fair Premium Book
Most items prepared for and in time tor the Grange contests can be entered in the Fair contests as well; resulting in two opportunities for ribbons and prize money.
A lot of emphasis of the work shop time will be on a super event called the "Super 17 Challenge" Contest at the WIAF. The following will show examples of entries in both competitions and will enumerate the Categories available.