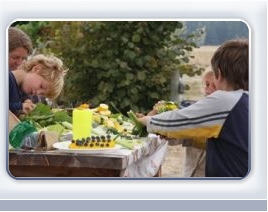 Dictionaries Given to South Whidbey Third Grade Students
The third grade students of South Whidbey received Dictionaries on Monday December 13th. Robert Jimenez and Chuck Prochaska distributed the dictionaries on behalf of Deer Lagoon Grange continuing a long standing community service by the Grange.
The dictionaries were distributed to Island Christian Academy, South Whidbey Elementary School, Wellington Day School, Whidbey Island Academy, and Whidbey Island Waldorf School.
This year there have been over 48000 dictionaries distributed in the State of Washington. The Grange is proud to support The Dictionary Project through its Word for Thirds program. Through the tireless efforts of the Grange's network of volunteers, America's oldest rural and agriculture organization has presented third grade students across the nation with more than 100,000 dictionaries.
Deer Lagoon Grange welcomes members of the community to help with it's efforts to support education on South Whidbey through this and other programs.
Veggie Critters at Tilth Saturday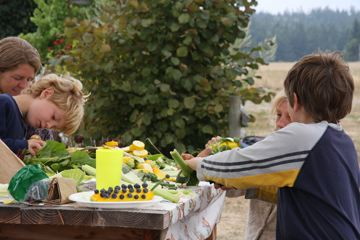 The Tilth Farmers' Market was held Saturday, August 14 and included the annual garden critter creation workshop as part of the County Fair. Danny Ward, a Whidbey Island icon, also performed with his signature saxophone.
Deer Lagoon Grange sponsored the workshop to encourage submissions to the Island County Fair. The Grange offered Grange Bux to children, ages 18 and under, to use to purchase anything at the market. Vendors had odd-looking vegetables for kids and adults to create creatures using combinations of materials. Grange Bux were valued at one dollar apiece. Roland Prochaska was the coordinator for the Grange.
State Level competition at Bellingham - July 2010
Click here for a list of the results and some pictures of the awards.
Prize for "Shoes" - July 2010
The Washington State Grange Poetry Contest for the year 2010 had the theme "Shoes".
In the category, "ADULT -- FREE VERSE", the Deer Lagoon Grange entry captured 2nd Place.
The entry "Shoes" was submitted by Arjun Collins, a student at Amherst University is a Nephew of Meena Prochaska, a member of Deer Lagoon Grange.
The complete volume of this year's winners may be purchased through the Lecturer's Department of the Washington State Grange, Contact Tom Gwin, Lecturer.
Local Grange achieves new level of participation in Washington State Grange - July 2010
Nine members of Deer Lagoon Grange #846 achieved their 6th Degree in the Grange at the 121st Annual Washington State Grange Convention June 30th held in Bellingham at Meridian High School. The formal ceremony for induction into the 6th Degree of the Order of Patrons of Husbandry was held Wednesday evening following the formal opening of the 121st annual session.
The nine were among eighty-four others taking the 6th Degree. The nine Deer Lagoon members are; Roxanne Chamuler, Freeland; Scott Fredrickson, Langley; Gary and Tarey Kay, Clinton; Roland and Meena Prochaska, Freeland; Marta Schillinger, Langley; Lark Shugar, Freeland, and Christine Williams, Langley. Deer Lagoon Grange had the highest percentage of eligible members of any of the 130 or so Granges participating in this convention. Two of these Candidates, Gary and Tarey Kay, were honored by actually participating in the ceremony representing the other 93 candidates.
Deer Lagoon Grange originally started in the Bayview area in 1910 and recently celebrated a centennial of Grange presence on Whidbey Island. When the Grange restarted after a short closure due to World War I, this Grange was reorganized by Albert S. Goss, Master, Washington State Grange, who went on to serve the National Grange as Master and held key assignments in the Roosevelt and Truman administrations. Deer Lagoon Grange has been active in the Community with its "Words for Thirds" program, "Food Basics" series of workshops, and "Critter Workshop" at the Tilth Saturday Market.. Additionally the Grange is actively participating in the Island County Fair with Superintendants, Stewards, Judges, and Grange Displays. This year at the Island County Fair's "Fair University" Saturday will be "Grange Day". For more information about Granges in Island County contact Chuck Prochaska, 360-222-3110. Deer Lagoon Grange's century old building is a popular destination for many groups besides the Grange and is in use nearly every day. Deer Lagoon Grange building is an Island County Historic site. For more information about Deer Lagoon Grange visit their website www.deerlagoongrange.com.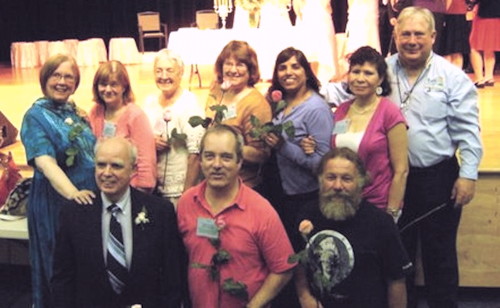 6th Degree Members following the Ceremony. Standing Tarey Kay, Roxie Chamuler, Chris Williams,
Lark Shugar, Meena Prochaska, Marta Schillinger, and Island County Deputy Chuck Prochaska.
Kneeling Gary Kay, Roland Prochaska, Scott Fredrickson.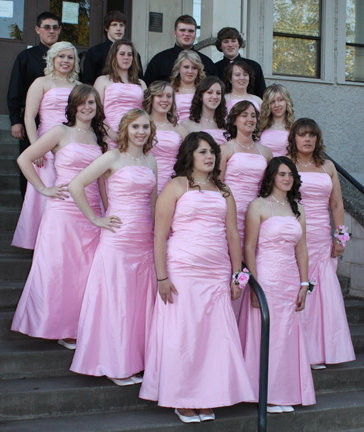 Rose Drill Team
6th Degree Marching Candidates Gary and Tarey Kay
Chuck, Meena, and Judy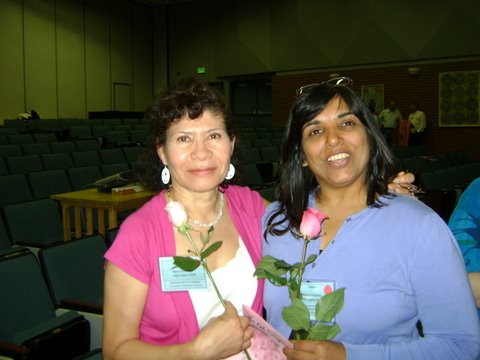 Marta and Meena
Grange marks 100 years of service - January 2010
By Jeff Vanderford, South Whidbey Record Sports, Port of S. Whidbey




Several dozen people gathered Saturday for a luncheon at the Deer Lagoon Grange on Bayview Road to celebrate 100 years of service on South Whidbey.




Several Granges were organized in the period from 1909 through 1913 on Whidbey Island, including those in the communities of Clinton, Oak Harbor, Freeland, Saratoga and Deer Lagoon, said Grange Overseer Chuck Prochaska.




Most of the Granges did not survive to the end of World War I. The bright spot was Deer Lagoon. Even though the original Grange did not make it past the war's end, the people of Deer Lagoon Grange did survive, and they recreated their Grange as Deer Lagoon Grange No. 846 in 1926.

"Thus we can celebrate a century of Grange on South Whidbey, because the concept of fraternity and community service has survived until this day," Prochaska said.




The awards for Grange service were presented by Washington State




Deer Lagoon Overseer Chuck Prochaska and Grange Master Ken Schillinger listen to Washington State Grange Master June Hendrickson address a gathering on Saturday, celebrating 100 years of service at the Deer Lagoon Grange in Langley
Grange Master June Hendrickson, noting that a new organization had formed in Penn Cove, and that Granges have been undergoing a rebirth of sorts in the past few years. Prochaska introduced local philanthropist Nancy Nordhoff, who was recognized for her help ten years ago.
"Nancy stepped forward when we needed financial help," Prochaska said. "We had a small budget and a declining membership and our hall was in sad shape. Thanks to her, membership has improved, and we have this fine building that we're in today."
Nordhoff thanked those attending and explained the secret of her generosity.
"Chuck came to me and asked for help; it's as simple as that," she said.
Others given awards for service included James Keyes, a member since December 1951; Gerald Bell, a resident of Coupeville who joined in March 1958; Dr. R.O. Ellis, who joined in December 1958; Kenneth Schillinger of Langley, current Deer Lagoon Grange Master, who joined in March 1972; Tom Talbot of Clinton, who joined in June 1960; and Prochaska of Greenbank, who began his service in March 1978.
001; MC, Chuck Prochaska addressing the audience. far left standing, Bob Cadwallader; seated Jack Hendrickson, June Hendrickson; Standing, Chuck Prochaska; Seated, Ken Schillinger, Nancy Nordhoff, MarkliAnn Johnston (Master Penn Cove Grange #1149).
013; Chuck Prochaska, MarkliAnn Johnston; Ken Schillinger.
015; Ken Schillinger presenting award to Nancy Nordhoff; l to r, Chuck Prochaska, Ken Schillinger, Nancy Nordhoff, MarkliAnn Johnston.
018; Washington State Grange Master, June Hendrickson presenting award to Deer Lagoon Grange member, Tom Talbot; also in picture is Ken Schillinger.
019; Awardee, Dr. R.O. Ellis of Oak Harbor; seated to left is Phyllis Rainer; seated behind Jan Ellis.
021; Standing, Awardee, James Keyes.
023; Jean Farnen receiving her award from June Hendrickson.