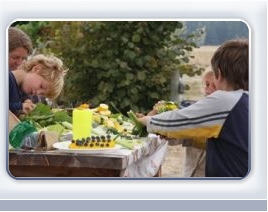 Grange Contacts
Deer Lagoon Grange Hall
Location: 5142 Bayview Road, Langley, Washington
Mail: P.O. Box 386 Freeland Washington 98249
Please direct questions or inquiries to the Grange Master or Overseer.
Current Officers
| | | | |
| --- | --- | --- | --- |
| Grange Office | Name | e-mail | Phone |
| Master | Tarey Kay | | 360-341-2008 |
| Overseer | Judy Prochaska | | 360-222-3110 |
| Lecturer | Gary Kay | | 360-341-2008 |
| Steward | Scot Fredrickson | N/A | N/A |
| Assistant Steward | Ralph Gorg | N/A | 360-579-5898 |
| Lady Assistant Steward | Chris Williams | | 360-321-4027 |
| Chaplain | Phyllis Rainey | | 360-341-4273 |
| Treasurer | Chuck Prochaska | | 360-222-3110 |
| Secretary | Tori Johnson | | 702-501-5087 |
| Gatekeeper | Dan Abat | | 360-221-1780 |
| Ceres | Dorothy McCann | | |
| Pomona | Kristi Johansen-Abat | | 360-221-1780 |
| Flora | Vacant | | |
| Family Living Chairman | Kristi Johansen-Abat | | 360-221-1780 |
| Executive Committee 3yr | Ken Schillenger | | 360-341-2092 |
| Executive Committee 2yr | Judy Prochaska | | 360-222-3110 |
| Executive Committee 1yr | Gary Kay | | 360-341-2008 |
| | | | |
| Other Assignments | | | |
| Membership Chair | | | |
| Resolution Comm. Chair | | | |
| Rental Chairman | Judy Prochaska | | 360-222-3110 |
| Webmaster | Molly Kay | | |
| Facebook Coord. | Andrea Linton | | 360-221-1310 |
| Newsletter Editor | Chuck Prochaska | | 360-222-3110 |
| Publicity/ Public Relations | Chuck Prochaska | | 360-222-3110 |
| Grange Food News | Chris Williams | | 360-321-4027 |
| Building Fund Coord | Chuck Prochaska | | 360-222-3110 |
| Grounds Maintenance | Dan Abat | | 360-221-1780 |
| Hall-Keeper | | | |
Invitation
Deer Lagoon Grange #846
Continuously serving the community since 1926.
We invite you to come and be part of our Grange. We want to be relevant to the Family and the Community. We want to involve youth in our Grange and establish a Junior and Youth Grange; we need YOU to make that happen.
If you are interested in joining the Grange, please submit a completed application and attend a business meeting to receive the obligation. Deer Lagoon Grange meets regularly on the first Tuesday of each month at 7:00PM. We are looking forward to sharing our fellowship with you.
Click here for application form
Grange Objectives
This Grange's objectives are threefold. Provide for Family activity (1) and fun through Grange events and fellowship. Participate in the Community and serve community needs (2) by supporting youth, providing education, and providing a premium place for community activities. Promote grass-roots non-partisan legislative needs (3) of the membership by authoring resolutions for action at the annual Washington State Grange Convention.
Annual Projects
The Food Series / Cooperative Buying
The Grange offers information seminars on food related topics to benefit the community. Classes related to food preparation are also offered. Cooperative buying trips include fruits, vegetables, and fish are another Grange sponsored activity.
Educational Services
The Grange is offering free English Second Language (ESL) / General Education Degree (GED) in a cooperative effort with South Whidbey Literacy. The Grange also provides Software training by special arrangement.
Words for Thirds
The Deer Lagoon Grange, participates in a national program to donate dictionaries to third grade students. The Grange is a community oriented service organization that takes on a wide variety of community projects to help satisfy the desires and activities of the overall community. One of the major efforts is to provide services to the children in the area to help enhance their education and extra-curricular activities. A complete history of this project and organizations involved with this project can be found on the Internet. The web site for this is http://www.dictionaryproject.org. Look it up. You will be amazed at how extensive this project is.
The Washington State Grange took it on as an overall project to distribute dictionaries to all the third grade students in the state and encouraged individual Grange organizations to get involved with the program. On reviewing the project, the Deer Lagoon Grange decided to make this one of their projects for South Whidbey Island. They went to the various schools in the area to determine how many third grade students were in the schools, including public and private schools. Once this was determined, they started to order the dictionaries, and then were requested to consider donating dictionaries to all the third grade students on Whidbey Island, including the schools in Coupeville and Oak Harbor. When all the count was made, there was the requirement to provide over a thousand dictionaries in the area. Needless to say, the cost of such a project was greater than was originally anticipated by the Deer Lagoon Grange, so donations from some of the community organizations and Grange members were solicited. Generosity from several individuals made it possible to provide dictionaries to all the third grade students on the Island. We also want to make this an annual event, so additional funding will be required for future years.
Another interesting aspect of this project is to provide Spanish to English and English to Spanish dictionaries to Spanish speaking children. However, there were only a few of the children in the schools that needed these dictionaries. It was determined that many of the children were learning Spanish as another language, and the teachers felt that having these dictionaries in the classrooms would be useful, so dictionaries were donated to each classroom for use by the children in looking up Spanish words.
It was also discovered that one of the aspects of education here on Whidbey Island is a large number of Home School students. It has been difficult to determine how many third grade children would be involved in this group, but the Grange is interested in addressing this group as well. So if parents of these Home School children are interested, contact the Deer Lagoon Grange for a free dictionary for your child.
Whidbey Island Area Fair
The Grange has been active in the Whidbey Island Area Fair for most of the Fair's history. Currently Deer Lagoon Grange provides a Superintendant for the Vegetable Section and for the Fruit Section of the Fair. Part of the responsibility of the Superintendants is to provide Stewards during the operation of the Fair, and to see that the entries are Judged, Ribbons awarded and recorded, and that the judged entries are displayed. In recent years the Grange has also participated in the Fair by creating its Grange display, a long standing tradition. Our members served a major role in getting the Fair going in 1946 after a five year hiatus in the Fair due to World War Two.
Kids Critter Workshop
In a cooperative effort to increase awareness and participation in the Whidbey Island Area Fair, the Grange has for the last three years conducted a "Kids Critter Workshop" the Saturday prior to the start of the Fair. The Grange gives "Grange Bucs" to children for them to purchase produce with which to create Critters (animal or people like creations made from combinations of vegetables). Grange members will help them create Critters which may be entered into the Fair the following week. The first three years this event has taken place at the Tilth Saturday Market.
Publications
Grange Food News (an email newsletter that comes out on a frequent basis, dealing with local food and farming on Whidbey Island and surrounding areas. There is no charge, is available to the public and all you have to do to get on the mailing list is to email a request to Chris Williams)
Deer Lagoon Newsletter (monthly)
History
Birth of an American Treasure: An early history of the Grange.
1939 History of Deer Lagoon Grange by Pearl Guffey
The Deer Lagoon Grange Lone Lake Lutheran Church: A history of the Grange and the building.
Expansion of the Hall in 1963: Includes a picture from that time.
A list of the Past Masters.