"Vinnie" - Champion Rush Hill's Notorious NDD
DOB - March 13, 1999 * OFA good hips* elbows clear * heart clear * thyroid clear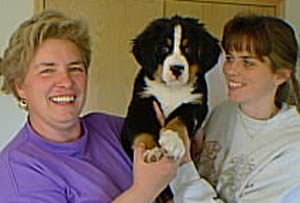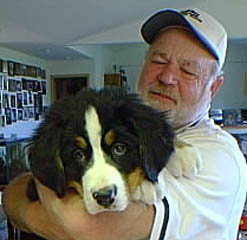 * FLASH *
Vinnie is Working Dog! A natural, he stepped right into the job he was born to do! Vinnie proved his natural ability by qualifying at his first try at the Draft test.
Vinnies second litter of puppies was born in April '05. Thank you Lorna of Hidden Valley Bernese for choosing Vinnie for your girl Janey. The puppies are beautiful.
Finally, we got the Berner of our dreams. Vinnie is the fifth of his litter to earn an AKC championship title. He earned it with pizzaz, in four weekends showing . His enjoyment of applause and his excellent movement have helped him win multiple BOB's & group placements, including TWO Group firsts, a Group two and a Group three.
We were quite happy to recieve his OFA rating of Good hips and clear elbows. His eyes have been ACVO examined clear annualy since he was a puppy. He is heart clear by a veterinary cardiologist, and thyroid checked normal from Michagan State University. Vinnie has sired a litter of seven puppies using fresh extended semen.
For Berner information contact the Seattle area Bernese club : http://bmdcgs.org/
Vinnie and his co-owner /handler Tonya Struble. Vinnie is everything we dreamed of, THANK YOU Tonya!
---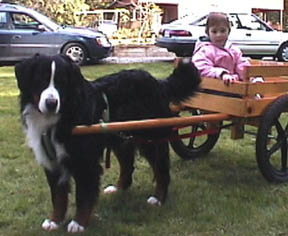 \
---