"Emma" - Am Can CH ShaRays Fair Emma CD
Whelped October 14, 2001 -OFA Ex, elbows clear, eyes CERF'ed at 8 weeks & annually
Am Can CH Timberlines Big Ben at Fawnhaven SH RN x Int. CH ShaRays Jamee
Emma is very balanced and moves beautifully. She started winning AKC points at 17 months and won her first major (3 pts) at WIKC November 2003.
Emma is now enjoying life and all the action with a her new family in Marysville. Marlys & I co-own Emma and take turns in the conformation ring. Sons Josh and Daniel take turns training agility and obedience and convincing Emma to share their beds. One phone call dad Brad answered and he and Emma were sharing the couch watching TV while the rest of the family was at 4-H. In November Marlys took Emma to Canada and won WB, BOW & BOS for a great start on Emma's CKC Championship.
The winning continues with the new team of Marlys & Emma. Winning at Elma & Couer D' Alene in May, then a 4 pt. major in Puyallup in June at the same time earning 2 legs on Emma's Companion Dog obedience title. We are quite proud of Marlys!
Titles, titles! Way to go Marlys! Emma earned her Canadian CH at the Sporting Dog Spectacular July '05, her CD at the PSLRA specialty show August '05 (with a 2nd place!) & her American CH with another major at WIKC November '05.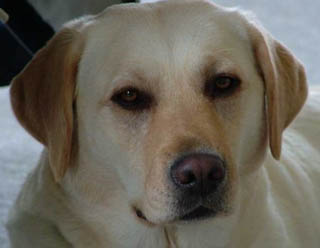 Emma the day she won her second major in June. Emma's Grand dam Reba, 1/2 sister Marlo, cousin Buffy & mom Jamee.
---
Open yellow class - PSLRA Specialty 7/04 .........Emma & Marlo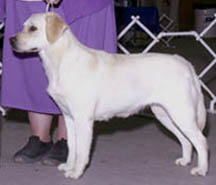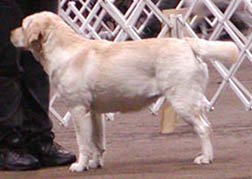 Winning 2 AKC points at 19 months.....................and the weekend of her first 3 pt major at WIKC 11/03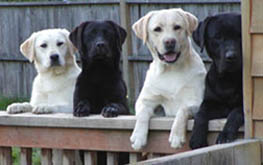 Emma, Kenzy, Bailee & Isaac in their field.................................Emma at 5 months.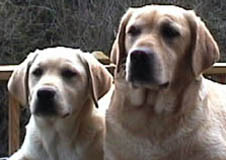 Emma at 5 months with her mom Jamee
---