This page is dedicated to all our wonderful homes who helped our Labs meet their potential. We believe there are many Labradors with unknown, untapped talent. They are so capable of being more than just a pretty face. Thank you all! We really appreciate your time and effort, and helping us to prove that ShaRay Labradors do have........
Beauty, Brains and TALENT!!
---
Ron & Linda Perry are two of our dearest friends, a gift from our Labradors. We met when they came to Whidbey to see if the little yellow girl from our '92 Billy x Minx litter would fit into their lives. Chelsea went home with them that day, and changed all of our lives. With more love to share, the family of three grew to four in 96, when Tara joined the Perry household. Tara was from our Sheba bred to a Wyntercreek dog, Sonny. Ron & Linda always loved Blaze, so in '98 when she was bred to Nicholas, a Master Hunter, they took home the big yellow boy, Alex.

Another song comes to mind.............. "We had it all, just like Bogey and Bacall...."

Little did we all know that tragedy was just around the corner. Linda was diagnosed with cancer. During Linda's treatment, Chelsea lost a quick battle with her own cancer. Then Linda left us for the Rainbow bridge to get Chelsea. We miss Linda so much, and we thank her for being such a wonderful ambassador for our great Labradors.

Ron is very busy training Tara and Alex in the Master level of AKC hunt tests. Both dogs have qualifying ribbons at that most difficult level, with Ron's goal of completing that elusive title.
| | |
| --- | --- |
| ShaRays Chelsea of Whidbey CDX JH WC Delta Pet Therapy CGC | Chelsea ...........Tara ............Alex |
| ShaRays Alexander of Whidbey CD SH WC Delta Pet Therapy CGC | |
| ShaRays Tara of Whidbey CD SH WC Delta Pet Therapy CGC | |
NOW..... the latest addition, who keeps Ron running and laughing........... Nick!
CH ShaRays Nikolas of Whidbey JH WC
Chablais Singing in the Rain JH x Am Can Ch ShaRays Champagne on Ice, WC
---
Jan Skewes & Ray Smith are more super friends courtesy of the Labradors. Jan's first ShaRay dog was Abe, from Luke & Blaze in '95. Next was P.D. James, a Christi x Lancer daughter born in '97. Jan & I chose CH Sounders Hear Me Roar for PD's only litter. From that nice breeding, we co-own a handsome yellow boy, Morse. Jan is continually training and learning with her dogs. Many mornings she is up with the birds, laying 'track' while the dew is still falling. Tracking titles and Search and Rescue are the goals she is now attaining. Jan and dogs have assisted on searches. A generous person, a very kind friend.
Am Intl Champion ShaRays Abraham of Greenbank NA NAJ TD CD WC VCD1 (left)
ShaRays PD James of GBK TD CD NA NAJ WC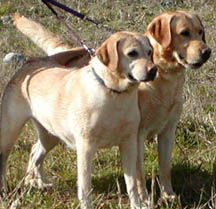 PD & Morse marking at a field training day.............. Morse making a spectacular water entry to retrieve a duck.
---
Can CH ShaRays Dixie at Tristar WC - DOB 10/2003

Am Can CH ShaRays Jeremiah CD X ShaRays Sweet Little Suzie Q WC
Dixie is loved & trained by Shelley Maloney and family at Tristar Labs in B.C.
Dixie is doing quite well in both Canada & the US winning BOB in both places.
---
Vicky MacLean lives up in the mountains of Montana, where she works for the U.S. Forest Service. She still manages to train her dogs for everything, and give her time to others. Vicky started what has become an annual quilt donation for the Rescue Raffle at our PSLRA specialty. She makes other items for the raffle while snow drifts around her log home. Another thank you to a wonderful person.
Abby is a Velvet daughter and Weezie is a Luke daughter.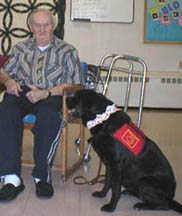 ShaRays Happy Abby CDX, AX, OAJ and Therapy Dog Inc. member. - Vicky MacLean.........Abby ready for a Halloween TDI visit.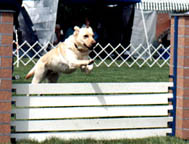 Trolldom's Eloise "Weezie" CD, JH, NA, OAJ - Vicky MacLean.
---

ShaRay's Ebony Rose- Trailing, advanced cadaver/trace evidence, advanced water recovery
ShaRay's Holiday Magic -Wilderness air scent, advanced cadaver/trace evidence, advanced water recovery
I met Frank & Jo at a Labrador specialty back in the 80's when we were all just starting out in dogs. Retirement has given them the time to devote to the terrific work they do with their dogs.
Thank you Frank & Jo Kral for your dedication! Both to the dogs and to helping the human world.
Ebby & Holly on a river water search.
---
Edith Bryan - ShaRays Posthaste Annabelle CD JH NA NAJ TDX WC CGC Certified Search Dog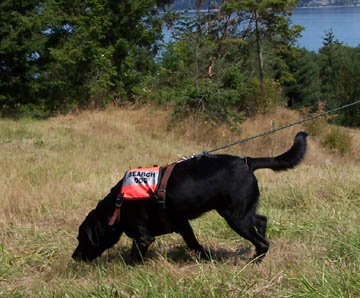 We are very pleased to say Annie and Edith are another ShaRay Search and Rescue team. They have been called out multiple times to assist the local sheriff's office.
---
Suzanne Elshult & "Bosse", another Search & Rescue team. Bosse is sired by Jeremy .
---
ShaRays Theodore R Bear CD, Delta Pet Partner. "Teddy" is another Christi son. He and Christi Dudzik are partners in giving.
Teddy did exceptionally well earning his obedience Companion Dog title. I quote Christi, "I thought you'd like to know that Teddy placed 2nd in Novice B with a 196.5. I was very pleased with his performance in the ring and his demeanor while waiting. No stress, just as easy going as you please. I really enjoyed the day."
Another day, another great team performance , "By the way, Teddy's score was a 197.5 earlier in the day."
---
There are many other ShaRay dogs and owners who belong on this page. We have produced working guide dogs, CCI service dogs, many other therapy dogs, and dogs that are just wonderful family companions, hunters, and caretakers.
I am scanning and compiling data as fast as I can. If you have one of my dogs, and want to be here, please send me a photo and tell me of your dogs achievements.
Thank you all!